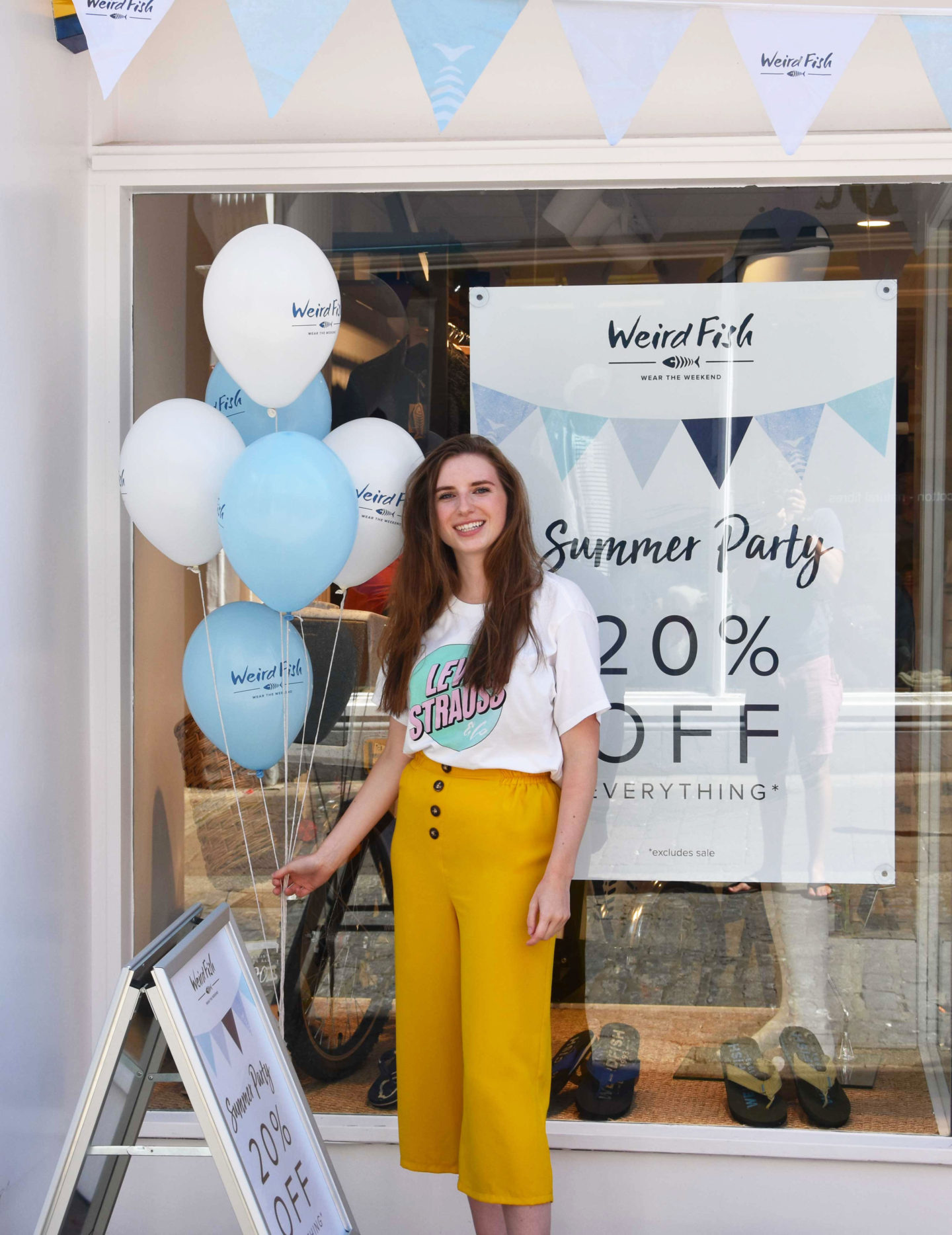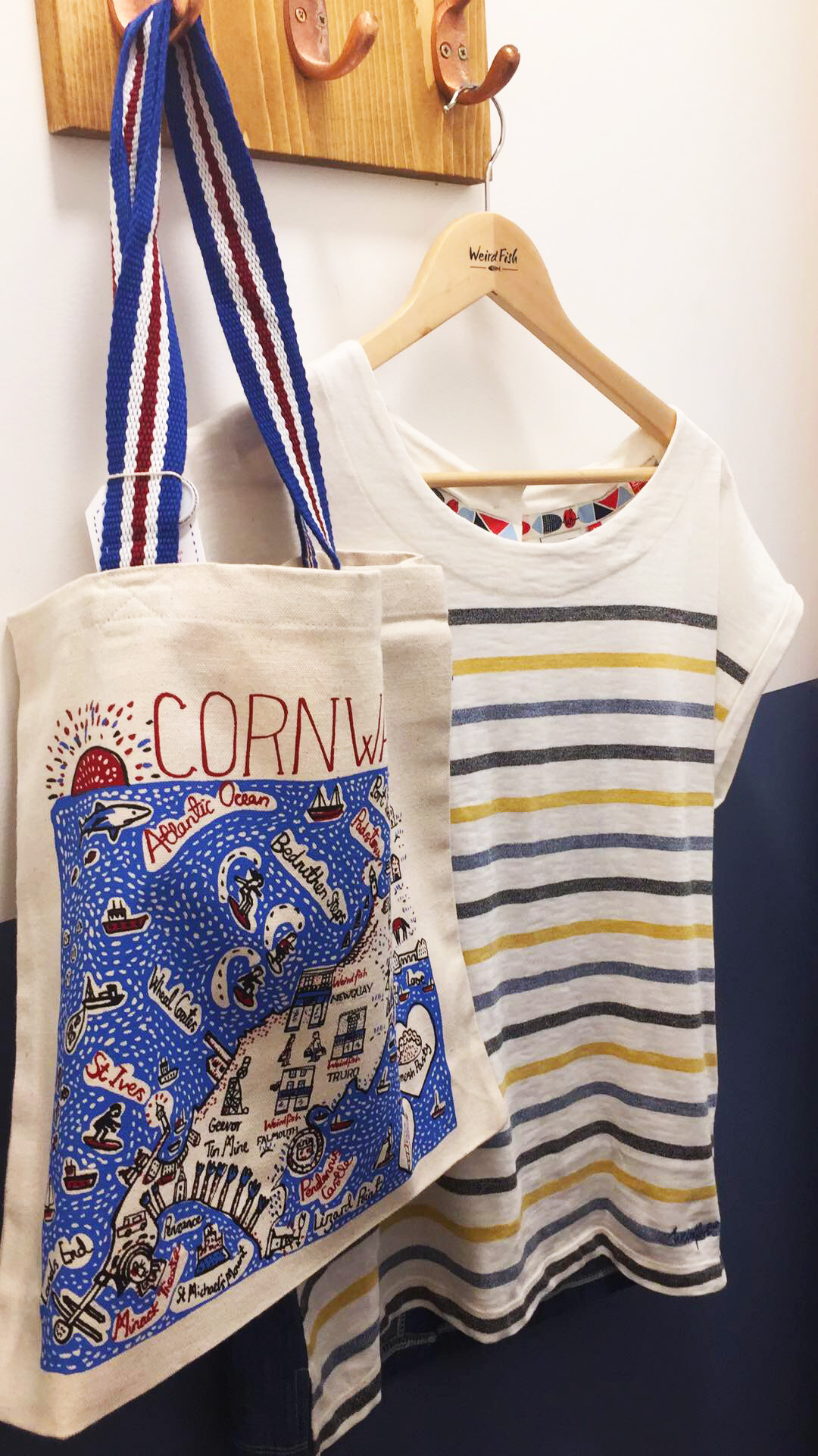 Hello everyone and welcome back to my blog!
Today's post is all about the new store opening of Weird Fish in Falmouth! For those of you who aren't familiar with the brand, Weird Fish are casual/lifestyle clothing brand for Men, Women and Children and are immensely popular in Cornwall with four, now five stores dotted around the county.
Weird Fish kindly invited me along to their summer party to celebrate their Falmouth store opening. There was an artist, free ice cream and of course the beautiful new store filled with essentail summer clothes!
Weird Fish to me has a very authentic relaxed, beachy style, the store being in Falmouth completely compliments the towns vibe. While looking around the store I fell in love with a few pieces, particularly this blue and yellow stripped relaxed t-shirt which had some gorgeous buttons going down the back. (Pictured left). Unfortunately for me they only had a size 10 left in store (because it's so popular) and when trying it on in the changing rooms it was a tad big. I will however though be ordering size 8 when it comes back in, I will leave a link here to the Barberry T-Shirt if you too are interested in it.
While looking around the store my boyfriend/photographer, haha also found many pieces he liked. Weird Fish is totally his vibe of clothing; relaxed, nautical and reasonably priced for the quality. So instead I generously… let him use my voucher as what I wanted was out of stock. You can see him wearing his slogan t-shirt proudly down below.
In case you can't pop into a physical store, Weird Fish also has an online store with free delivery and a monthly draw to win £250 of Weird Fish clothing if you sign up to their newsletter!
Below I have curated a carousel of my top picks from Weird Fish at the moment. Of course it's mostly summer fashion however, I have thrown in an adorable rain coat for you know those possible summer showers!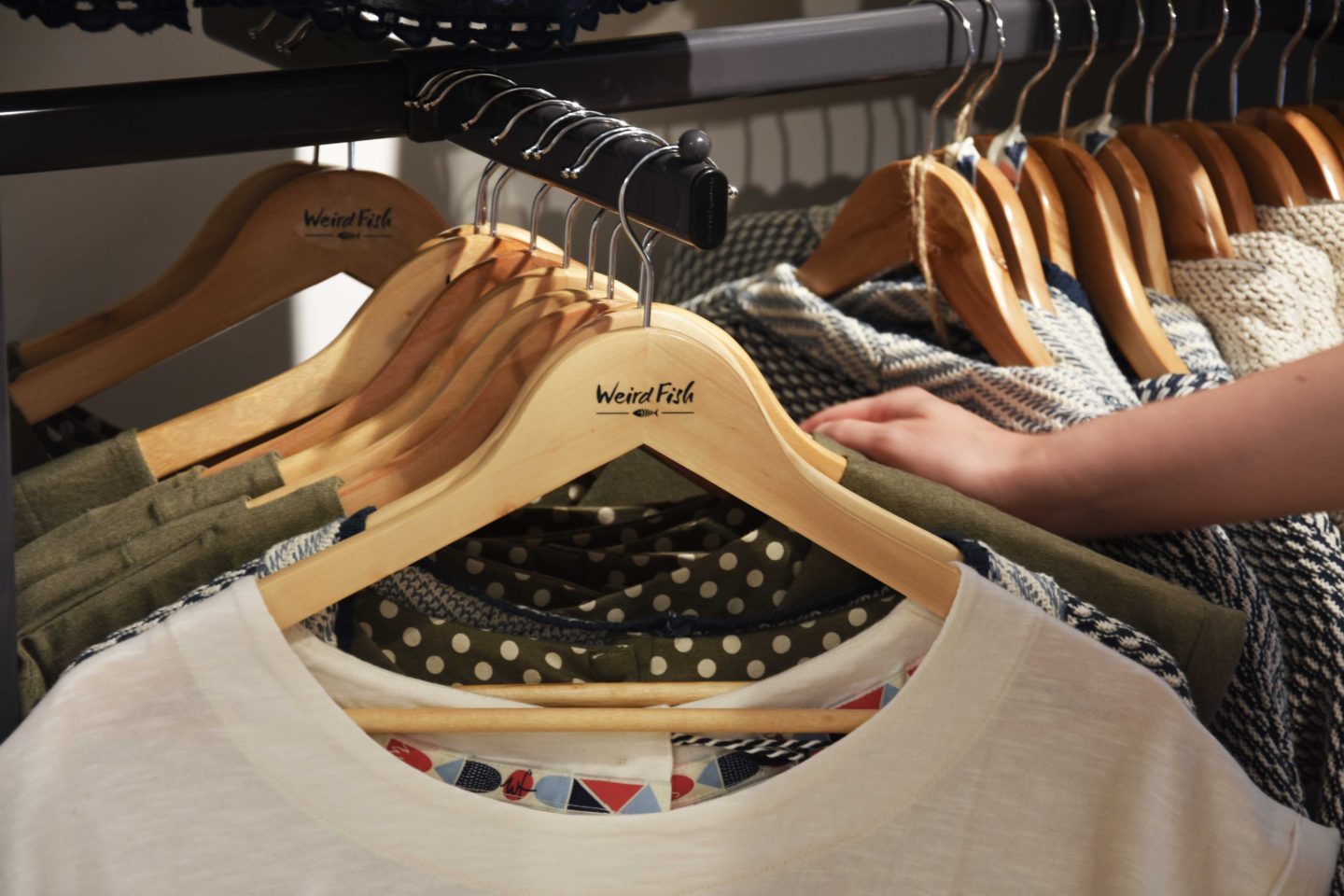 Earlier I mentioned at the Weird Fish summer party there was an artist named Julia Gash and she was working in collaboration with Weird Fish as they are all about promoting artists (how cool!)
Julia was painting her Cityscape or should I say Countyscape of Cornwall in the shop. Weird Fish stock the tote bag with her Cornwall print on in their stores. I was informed the canvas of Cornwall will be hung up inside the Falmouth store so if you're ever in there then definitely keep a look out!
I will link Julia's blog post about her experience with Weird Fish, holidaying in Cornwall and more of her work here.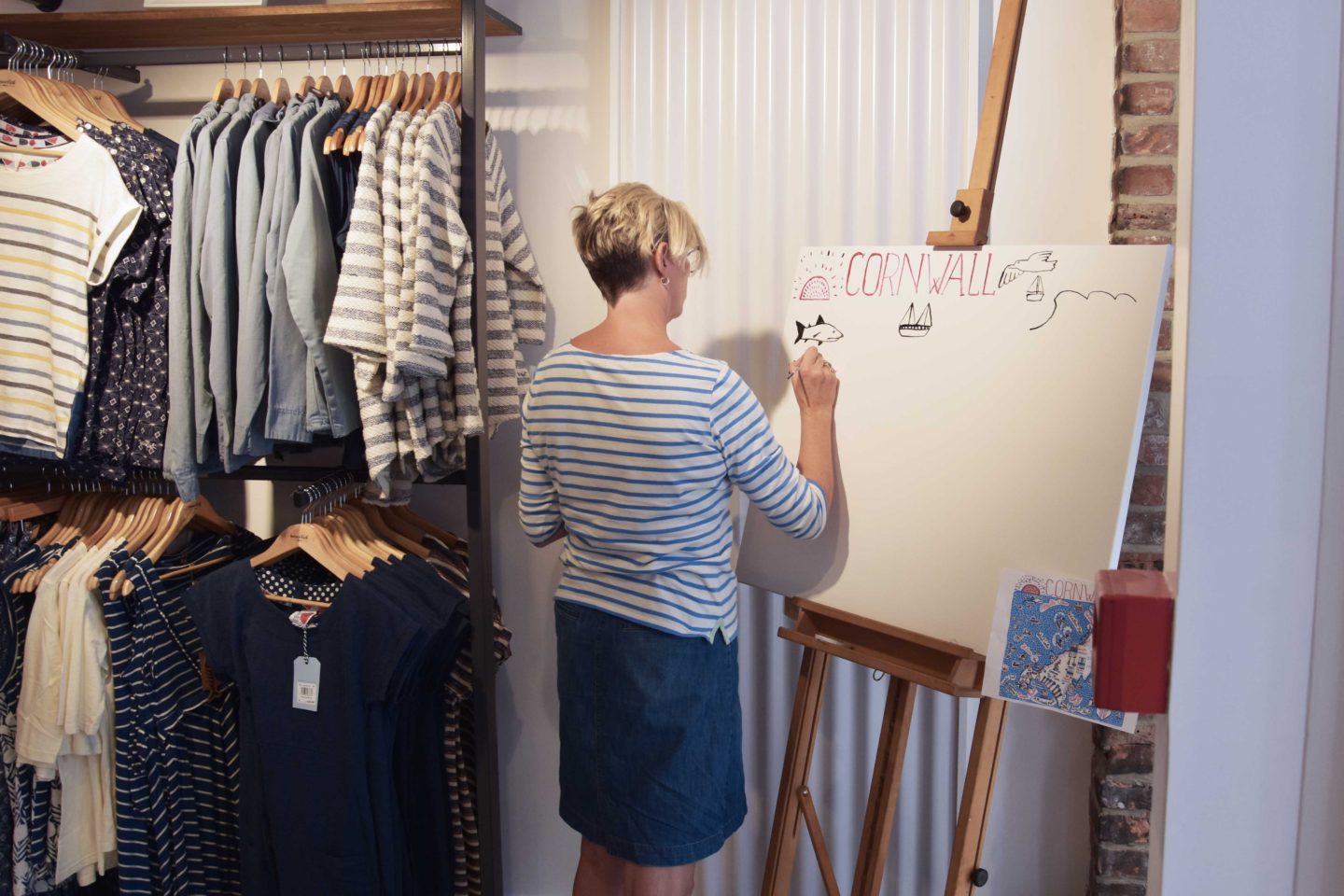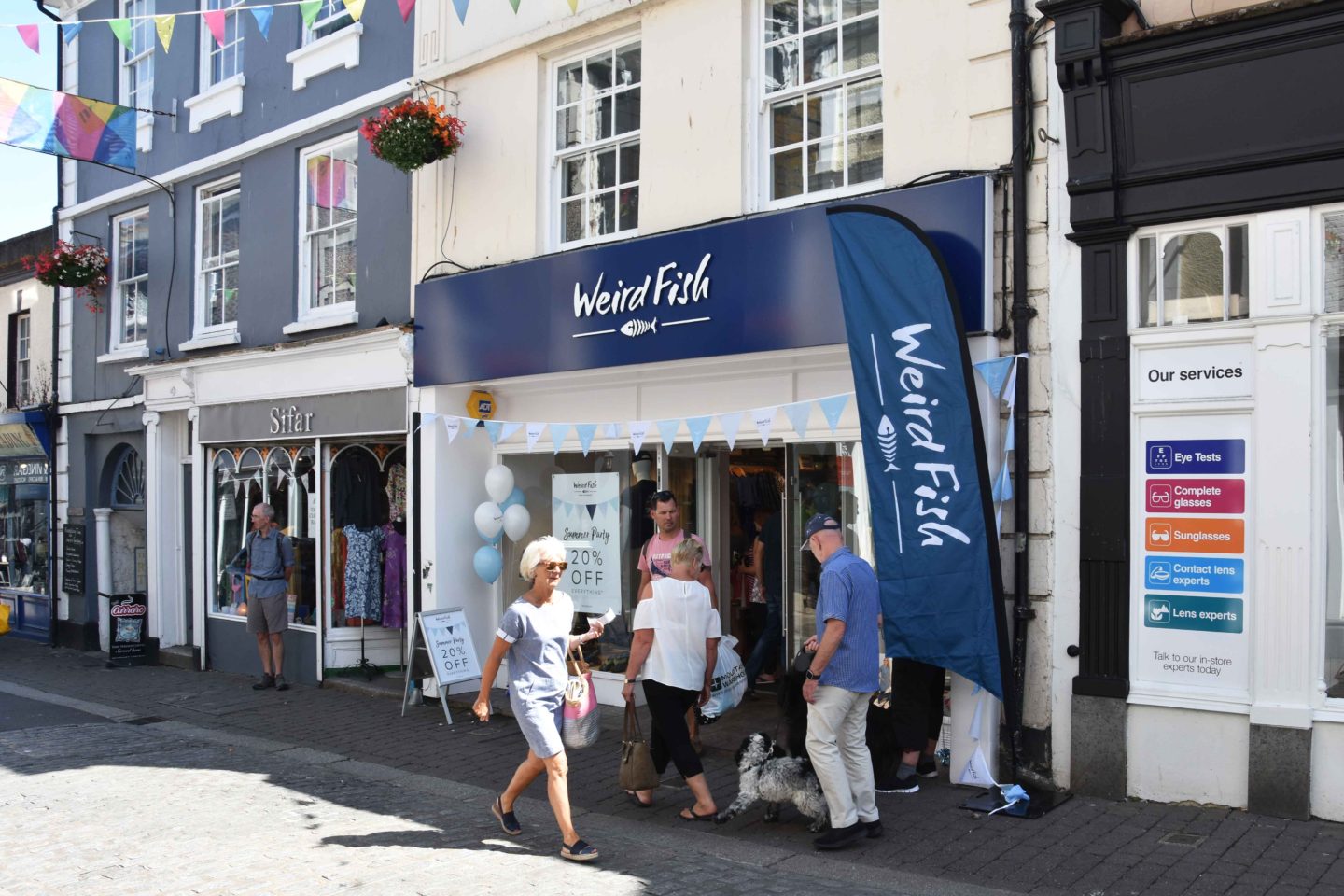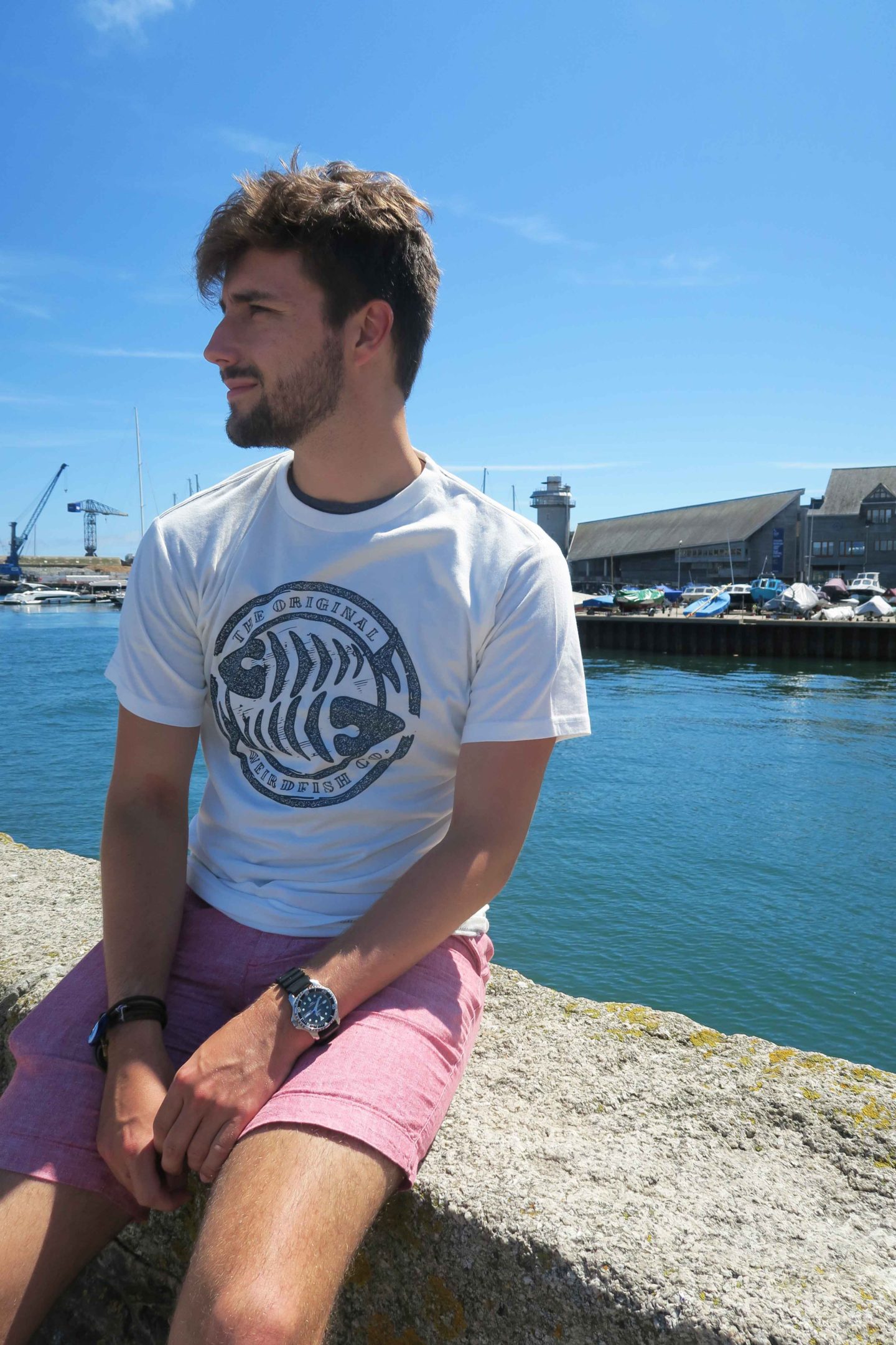 Overall I was absolutely delighted to be asked to work with a brand like Weird Fish. I had such an amazing time and the refreshing and FREE Callestick apple sorbet really hit the spot after a hard days shopping, haha!
While putting this post together I realised that I have never done a post on Falmouth! I mean that is crazy considering I went to uni there for three years. Visiting Falmouth again just felt so right, the towns vibe is like nowhere else I have experienced. The cute little independent shops and cafes to the amazing harbour to even an abundance of live music and art, it really is well worth a visit.
I will leave a few images below to give you a flavour of what Falmouth has to offer and to also make you feel super hungry looking at those Harbour Lights chips! Hopefully one day I will do a more in-depth post all about Falmouth and my favourite places to visit. In the meantime why don't you check out my blog posts about other places to visit in Cornwall here.
I really hope you enjoyed this blog post and I just wanted to say a massive thank you to Weird Fish for having me!
Lots of love, Melissa x
I was kindly asked to write this post by Weird Fish in return for a free Julia Gash tote bag and a Weird Fish gift voucher. However, all thoughts and opinions are my own and I would never promote something I wasn't passionate about.